Keratin Lash Lift and Tint
A Keratin Lash lift and Tint is a treatment where lashes are treated with Keratin and curled to appear longer, darker and lifted.
This treatment is perfect for women who have lashes that tend to angle straight or downward. It doesn't require extensions or after care, except lashes can not get wet for 24 hours following the treatment. The treatment is very relaxing and there is no discomfort of any kind.
The Keratin Lash lift and Tint makes the eyes look younger and open. It also lasts from 6-8 weeks. Products in Keratin Lash lift are paraben free and safe for the eyes.
This treatment includes décolleté, hands or scalp massage.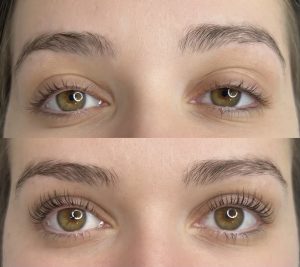 Tinting your lashes can create an illusion of wearing mascara, while darkening and intensifying the color. The color can last anywhere from 4-5 weeks.
Worrying about your eyebrows getting gray? This Eyebrow treatment is custom-lend vegetable-based, semi-permanent colors that can take brows from fair or gray to flaunt natural, full-looking and flattering in minutes!
A keratin-filled treatment designed to straighten and reposition brow hairs.
Resulting in a fuller, lifted, wispy brow. Paired with brow sculpting and tinting.
Results last 4-6 weeks.